One Check Philanthropy - Don ('58) and Rudith ('65) Drennan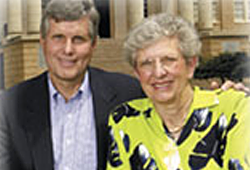 Don and Rudith Drennan are long time friends of ACU. The Drennans recently decided to transfer the assets in their family foundation to a Donor Advised Fund at The ACU Foundation.
Don:
We have complete confidence in the ability of The Foundation to manage the funds wisely and efficiently. We still have the ability to recommend the distribution of funds to organizations of our choosing. And, we no longer have to deal with the accounting and reporting requirements of the IRS that apply to private foundations. The Donor Advised Fund allows us to receive one receipt for all our contributions.
Rudith:
Our children have been members of the board of our family foundation, and each one has an allocation of funds for gifting to their favorite charities from the Donor Advised Fund. We still have that prerogative, and we have named our children as successors to direct the fund after our demise.
Don:
The fund is designed so that we can add to it periodically. It is beneficial to us to make thoughtful decisions about the amount we can give with a given time period and write one check, rather than try to manage our gifts on a piece-meal basis. And the fund's restrictions are consistent with our interests. We can recommend that a portion of our gifts go to any qualified 501(c)(3) organization, and we can advise that our ACU gifts go to the specific interests we have there.
Don:
I am delighted that the Office of Gift Planning is expanding its services to its friends and to other non-profit organizations. We have unique capabilities to invest and administer funds, and it is a joy to encourage and support responsible philanthropy.