Growing the Wildcat Family with a Charitable Trust – Mark and Nancy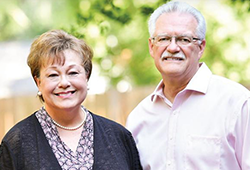 Mark and Nancy Waldron, of Huntsville, Texas, have deep family connections to the university; Hart Auditorium in the Onstead-Packer Biblical Studies Building is named in honor of Mark's grandparents, Horace Eugene and Charlotte Hart. Their appreciation for ACU grew deeper, however, once their daughter, Lisa (Waldron '04) Mahaffey, chose to attend. As Wildcat parents, the Waldrons witnessed firsthand that ACU is a truly special place.
"ACU offered our daughter something different than every other university," Mark said. "Not only did she receive individualized attention and an amazing education from the faculty, she also was blessed with lasting, Christian friendships that remain to this day."
Watching their daughter's life be enriched here inspired the Waldrons to give back financially to ACU. They used the opportunity of selling a family business to make a lasting impact toward making college more affordable for students. Working with The ACU Foundation to establish a trust, the Waldrons created a gift that would benefit the university while providing them with an immediate tax savings and additional annual income.
"It is truly a gift that continues to give back," Nancy said. "Even though Lisa graduated several years ago, we are proud to still be connected to this wonderful school."
The Office of Gift Planning is available to work with your family to help achieve both your financial and philanthropic needs. From trusts and annuities that provide lifetime income back to the donor to working with families during a business or property transition to avoid unnecessary taxes, please contact the Office of Gift Planning today to see how we may be able to help your family.