Strategic Gifts with a Donor Advised Fund – Jeff ('86) and Randa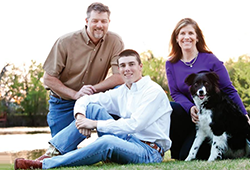 Deciding to give money to a charity should be a thoughtful process. But actually making the gift? No one said that has to be difficult.
That's why Jeff ('86) and Randa (Nicholson '88) Upp of Abilene have a donor-advised fund (DAF) set-up through the Office of Gift Planning.
A DAF works like a savings account for giving; funds are invested by the same professional team managing ACU's endowment, and once a year, 5 percent (or more) of the funds are distributed with 50 percent of the proceeds going to charitable organization(s) of the Upps' choosing. The remaining 50 percent goes to the university or ACU-sanctioned organizations.
With the Office of Gift Planning managing the fund and handling the administrative tasks, the Upps have the comfort of knowing their gifts are professionally managed and will benefit ACU and other philanthropic causes.
Contact the Office of Gift Planning today to learn more about donor-advised funds as a way to leave your legacy.