Philanthropy Has No Age - Dr. Leroy Garrett ('42) and Joey Hopkins ('10)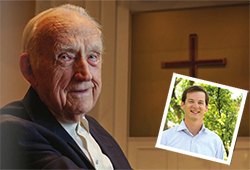 Charitable Gift Annuities and Endowed Scholarships
Dr. Leroy Garrett ('42) and Joey Hopkins ('10) may span four generations of Abilene Christian University benefactors, but they are partners in our Heritage Society.
Leroy, a church history scholar and author, has been a donor for some 50 years, most recently through Charitable Gift Annuities designed to benefit him in retirement and accrue as endowment funds to help advance ACU's mission.
Joey's philanthropy began as a 20-year-old when he became the youngest member of the President's Circle in 2007. Now an independent petroleum landman, he recently established the Dell Hopkins Memorial Endowed Scholarship in memory of his father, who dies when Joey was a child. Joey remembers his parents' and grandparents' involved with ACU, and wants to help others who have the same opportunities he enjoyed.
At ages 94 and 26, respectively, Leroy and Joey Understand the benefits of investing in ACU and its students.
If you are interested in a charitable gift annuity or if you would like to set up a scholarship for ACU students,
please contact the Office of Gift Planning today
.