Heritage Planning
LEAVING A LEGACY: Sustaining Family Wealth & Unity Across Generations



Dan T. Garrett, President Emeritus of The ACU Foundations, says that for thirty-five years he, like other estate planners, approached planned giving pragmatically.
What do you own?
How do you own it?
If you don't wake up tomorrow, what do you want to happen to it?

ACU's constituency characteristically answered the third question with a concern for family and charity. However, even then little thought was given to whether heirs were prepared for wealth or if charitable interests would be perpetuated in the second and third generations.

Increasingly, The Foundation staff encourages friends and donors to identify their basic values and priorities, and explore ways to perpetuate those through future generations.

Friends of The ACU Foundation at The Heritage Institute recently published a white paper titled, "Sustaining Family Wealth & Unity Across Generations." Content of the paper is developed around twelve elements practiced by the 10% of families which are successful in transferring both assets and values from one generation to another. To request your expanded copy and self-assessment form via the enclosed reply memorandum, email us at theacufoundation@acu.edu or by calling 800-979-1906.

The Elements of Heritage Planning
Foster strong and effective communication, and build trust between generations.
Develop, maintain and regularly re-visit your vision for the present and the future.
Successful families meet regularly.
Promote a balanced definition of the meaning of 'wealth.'
Keep the family business (including investments) separate from the business of being a family.
Identify the 'roles' necessary for the family to be successful (non-financially as well as financially).
Inspire individual family members to participate for their own individual reasons.
Train and mentor each generation.
Facilitate the genuine transfer of leadership from Generation to generation.
Require true collaboration between your professional advisors.
Create mechanisms for ongoing family governance.
Do it now.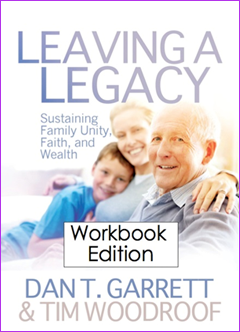 Please
contact us
for a free copy of Leaving a Legacy or the Leaving a Legacy Workbook
©2010 HERITAGE INTELLECTUAL RESOURCES. ALL RIGHTS RESERVED.